Scotland's £15m winter roads plan gets under way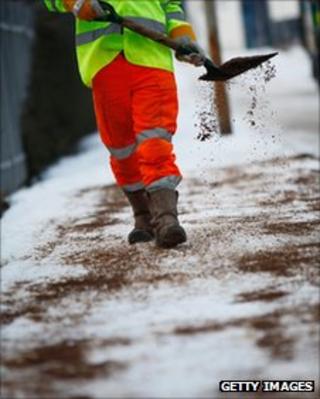 A £15m plan to keep Scotland's transport system moving this winter has been revealed by the country's transport minister.
However, Keith Brown warned the public that even with the best laid plans severe weather would bring disruption.
Salt stocks already contain 80,000 tonnes of salt, which equates to 75% of last year's salt usage.
Six new weather stations are being commissioned and 24 of the existing stations will have cameras added.
Transport Scotland, along with the country's 32 local authorities, has begun preparations to ensure Scotland's 2,000 miles of motorways and trunk roads could be treated in the event of snow and ice.
Mr Brown said: "Keeping Scotland moving is vital to the Scottish economy and we have built on the experience of the last two harsh winters.
"We are working with our partners across the public and private sector to ensure our winter service is as prepared as possible."
Following the disruption caused by last year's ice and snow, which saw the resignation of Mr Brown's predecessor Stewart Stevenson, the winter service is being strengthened in three areas covering road user information, treatments and decision-making.
Transport Scotland is also improving its Traffic Scotland service, providing people with more information to enable them to make decisions about travel.
However, Mr Brown warned: "When severe weather comes there will be disruption even with the best laid plans, but our operating companies are better prepared to get Scotland moving again due to our focus on improvement since last winter."
He added: "We've improved how we get information to our road users and they can play their part too.
"I ask people to use all available sources of travel information to check road conditions and all public transport alternatives.
"Our key aim is that, when disruption does occur, we can pull together to tackle the conditions as quickly as possible and get the country moving again."