David Cameron wants Scotland to remain in UK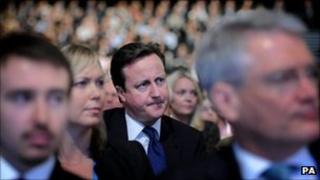 David Cameron said he wanted Scotland to stay in the union but accepted the decision was one for its people alone.
His comment came in a BBC interview in which he was asked about a future referendum on Scottish independence.
The Tory leader said he was a passionate supporter of the UK and he wanted to see Scotland stay inside it.
Mr Cameron, who is attending his party's annual conference, also said he would happily work with any one of the four Scots Tory leadership candidates.
On the issue of the union, Mr Cameron said it was a decision for the people of Scotland to take.
He added: "I want to keep Scotland in the UK. In the end that is a decision for the Scottish people to take.
"I think when they [voters] are asked, I do believe they would like to stay in the UK. I think we benefit in all being in this great country together and I will do everything I can to govern with respect, and I think I have done that."
Mr Cameron said it would be better to get on with a referendum vote if First Minister Alex Salmond were to "endlessly militate" and "make things unstable in terms of Scotland's relationship with the UK".
But he also said that if Mr Salmond wanted to concentrate on governing Scotland in a responsible way, then he was "happy to work" with him.
Mr Cameron was asked by interviewer David Porter about the contest to find a successor to current Scottish Tory Party leader, Annabel Goldie.
The candidates are Ruth Davidson, Jackson Carlaw, Murdo Fraser and Margaret Mitchell.
With reference to an interview in which UK Labour leader Ed Miliband failed to name all of the Scottish Labour leader contenders, Mr Cameron said: "I can name all of them, I won't fall into the trap. They are all very good candidates, but I won't put the fickle finger of fate or the black mark on any of them.
"It is for the Scottish Conservatives to decide. But whether it is Ruth, Jackson, Murdo or Margaret, I will work happily with any one of them."
The new Scottish leader will be announced on November 4 after a one-member, one-vote election.