Scottish minister plans BBC cuts meeting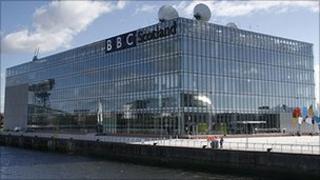 Culture Secretary Fiona Hyslop is to meet BBC Scotland Director Ken MacQuarrie to raise concerns about the BBC's proposed budget cuts.
BBC Scotland will lose up to 120 posts in a 16% fall in its budget by 2017.
According to Ms Hyslop, the cuts will result in BBC Scotland's budget being less than a third of the money raised from Scottish licence fee payers.
Mr MacQuarrie has said tough decisions had to be made in the light of the freeze to the licence fee.
In last year's government spending review, the BBC licence fee was frozen at £145.50 until 2016-17.
Ms Hyslop said: "I am deeply concerned about the BBC's proposals and the potential impact of these cuts on Scotland.
"In my meeting with Ken MacQuarrie, I will be seeking assurances that viewers and listeners will still be able to enjoy the same quality of news and programming from BBC Scotland.
"These proposed job losses and programming cutbacks are a blow to our media industry and creative industries sector as a whole, although it is encouraging that the BBC remains committed to meeting its target for television network spend in Scotland."
When he announced the budget cuts, Mr MacQuarrie said: "We do have to take some tough decisions on our spend on services and content for audiences in Scotland and there will be some reduction but we will safeguard the output which is most valued by our audiences and which best fulfils our role as Scotland's national public service broadcaster."