Two Scottish MPs break website expenses rules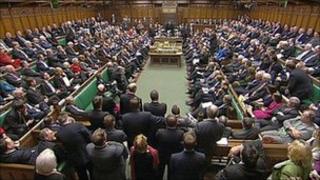 Two Scottish MPs are amongst 20 who the authorities have ruled contravened Commons website expenses rules.
The SNP's Westminster leader Angus Robertson, who represents Moray, and Dundee West Labour MP Jim McGovern are named as having claimed public money for websites containing party logos.
All 20 MPs have been ordered to remove political logos from taxpayer-funded websites.
No MPs were fined but all removed the logos or chose to return the money.
Amounts claimed ranged from about £100 to just over £1,000.
The compliance officer for the Independent Parliamentary Standards Authority (Ipsa) said in each case, Ipsa itself was partly to blame for not picking up the problems when claims - which all date back to 2010 - were submitted.
He said the watchdog had since "strengthened its validation practices".
Under the new system, set up following the expenses scandal of 2009, a compliance officer can choose to initiate his own investigations into MPs rather than wait for a complaint to be made.
Nineteen of the 20 cases were initiated by the compliance officer - apparently triggered by an initial complaint from someone about the website of Lib Dem MP Ian Swales.
In several cases, party logos appeared on the "links" page of the websites, in two cases they appeared in "favicons" - an image which typically appears in the address bar at the top of the page.