Boundary Commission announces plan to cut Scottish MPs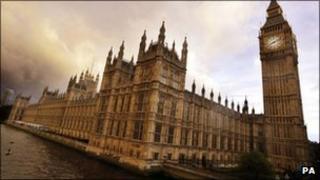 Big name Scottish MPs are finding out how they will be affected by plans to cut the size of the UK parliament.
Chief Secretary to the Treasury Danny Alexander and shadow foreign secretary Douglas Alexander are among those who may have to compete for new seats.
The Boundary Commission has now published detailed proposals to cut seven Scottish MPs, reducing the number from 59 to 52.
Glasgow and Edinburgh will each lose a seat under the plans.
Elsewhere, the number of constituencies across Highland, Argyll and Bute, and Moray would fall from five to four.
The move comes after parliament decided to reduce the number of Westminster seats from 650 to 600.
The Boundary Commission for Scotland's recommendations will now go out to public consultation for 12 weeks, before being considered further.
They would see the number of constituencies in Glasgow city drop from seven to six, while Edinburgh city would fall from five to four.
Changes in the Highlands could see three high-profile Liberal Democrats - Danny Alexander, former leader Charles Kennedy and party veteran Lord John Thurso - fighting it out for two seats, should all of them wish to become MPs at the next election.
For Labour, shadow foreign secretary Douglas Alexander faces seeing his Paisley and Renfrewshire South seat divided between two new ones, while former shadow Scottish secretary Ann McKechin's Glasgow North seat would disappear.
And the Dumfriesshire, Clydesdale and Tweeddale constituency of Scotland Office minister David Mundell - the only Tory MP from north of the border - could be distributed among several other seats.
The UK government says a smaller Commons will cut £12m a year off the cost of doing politics, while making the system fairer with a more uniform electorate in each constituency.
Some Labour MPs have accused the coalition of "gerrymandering", while some Lib Dems are reported to be unhappy about the prospect of losing seats in the shake-up.
The Scottish Conservatives and Liberal Democrats declined to comment on the plans in detail, but Labour said the reductions would see Scotland's voice at Westminster reduced.
Considering proposals
Scotland's two most remote seats - Na h-Eileanan an Iar (the Western Isles) and Orkney and Shetland - would be protected under the proposals.
But the remaining 50 constituencies must now stick to a prescribed number of voters per seat for the first time.
That number of electors has been set at between 72,810 and 80,473 per constituency.
And none of the new seats, which would be in place for a UK election expected in May 2015, are allowed to be bigger than 13,000 sq km.
A total of 16 proposed mainland seats will spread across two council areas, including a new constituency of Clackmannanshire and Dunfermline West.
The largest proposed new seat is Caithness, Sutherland, Ross and Cromarty, at 12,830 sq km, while East Lothian would be the only constituency left unchanged under the proposals.
The Scottish Conservatives and Liberal Democrats said they would be considering the proposals.
'Intensive' working
But shadow Scottish secretary and Glasgow East MP Margaret Curran said: "This is a bad scenario for Scotland because Nick Clegg's plan to gerrymander seats will weaken Scotland's voice at Westminster.
"Scotland's great cities like Glasgow and Edinburgh will see their voice in parliament reduced.
"Instead we have totally new constituencies that cross different from local authority boundaries, are completely different from Holyrood boundaries, and often have little regard for local communities."
Hugh Buchanan, secretary to the Boundary Commission, said: "The commission has worked intensively to design this set of constituencies, which we believe provide a good implementation of the rules set by parliament.
"We now want to get people's views on these proposals so we can improve them where the legislation allows us to do so."
Westminster's Scottish seats were last redrawn ahead of the 2005 election.
Final proposals on the latest changes will be submitted to parliament for approval by October 2013.