Labour 'gubbed', says Alexander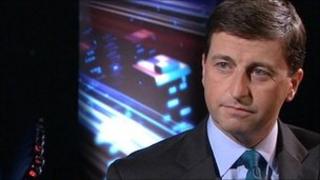 Shadow Foreign Secretary and Labour MP Douglas Alexander has warned his party it must transform to compete with the SNP after May's election defeat.
Mr Alexander said Labour was "well and truly gubbed" in the Scottish Parliament election, which delivered the Nationalists an overall majority.
In a lecture at Stirling University, Mr Alexander will say he is proud of Labour's achievements in power.
But he will say his party must reconnect with voters.
Delivering the Andrew John Williamson Memorial Lecture, Mr Alexander will say Labour was left recalling the industrial battles of the past against Thatcherism.
Meanwhile, the SNP focused upon the modern economy and Scottish confidence, the Paisley and Renfrewshire South MP will say.
Despite Labour's achievements at Westminster and Holyrood, Mr Alexander says that "unpopular aspects of both old and New Labour combined to reduce our support", such as refusing to move with the times and an association with the Iraq war and MP expenses scandal.
He will say: "So, by 2011, how has that story played out?
"It played out in Scottish Labour warning of the risks of Thatcherism decades after she had left office, and in a campaign that suggested knife crime, important though tackling it is, was the key concern of an electorate that, in truth, had many other concerns.
"This was a story that sought to draw what little emotional power it could muster not from Scotland's future, but from Scotland's past.
"And, in a decisive rejection at the ballot box, in the language of the terraces, we were well and truly 'gubbed'.
"The party which, on the day the Scottish Parliament was first elected, could claim without contradiction to be the only true national party of Scotland, within 12 years found itself supported by only one in eight Scottish voters."
With an independence referendum pending, Mr Alexander will also say Labour must offer more than simply grumbling about Nationalism.
Mr Alexander stresses he has not in any way changed his view that the Union benefits Scotland.
Rather, he says, Labour must articulate a modern Scottish patriotism, showing how Scotland can be a better nation with a renewed stress on equality and tackling poverty.