Scottish government needs most influence, says survey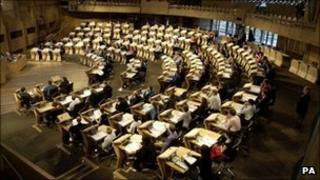 More than three quarters of people in Scotland think the Holyrood government should have most influence in running the country, a new survey has claimed.
At the same time, the 2010 Scottish social attitudes survey said 16% thought the responsibility should lie with UK ministers.
And 64% of people felt Scotland's economy had become weaker.
The SNP said the study showed backing for more powers, which the UK government said was being delivered.
The Scottish government-published survey of about 1,500 people collects public views on a wide range of issues.
Its latest conclusions, taken from information collected between June and October 2010, said 74% thought the Scottish government ought to have the most influence over how Scotland is run.
A total of 61% of respondents trusted Holyrood ministers to act in Scotland's best interests always or most of the time, with the figure at 22% for the UK government.
The survey came as the SNP prepares to gather for its annual party conference, where its forthcoming independence referendum will be high on the agenda.
SNP MSP Christina McKelvie said: "This survey shows that Scotland has moved on as a nation and underlines the appetite for further constitutional progress to extend the powers of the Scottish Parliament."
A Scotland Office spokesman said the Scotland Bill, currently going through Westminster, would deliver the single largest shift in financial powers to Scotland in 300 years.
"The Scottish government should recognise that fact, drop the negativity and embrace these new and exciting powers for Scotland," said the spokesman.
The survey also said public perception of the economy and standard of living remained "very negative", with 64% saying they felt Scotland's economy had become weaker in the 12 months prior to the study.
More than half, 54%, felt the general standard of living in Scotland had fallen over the same period.
Scottish Labour finance spokesman Richard Baker MSP, said: "This survey shows that Scots want a strong Scottish Parliament that is 100% focused on the economy - not constant constitutional wrangling."