Patrick Harvie calls for end to Holyrood Twitter ban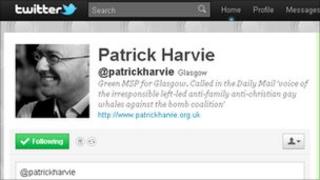 An MSP has called on the authorities at Holyrood to allow the use of social media during debates in the Scottish Parliament.
Scottish Green Patrick Harvie wants to follow the example of Westminster where MPs last week backed a motion allowing them to tweet during Commons debates.
Mr Harvie said Twitter and Facebook could "open up" discussions to the electorate.
Any change would need to be brought forward by the Standards Committee.
Mr Harvie, the co-convener of the Scottish Greens, has lodged a parliamentary motion on the issue.
Public confidence
It calls for an end to the ban on members "engaging the public through social media during debates".
It also urges the use of appropriate electronic resources to be allowed in the chamber.
Mr Harvie said: "Holyrood has always been ahead of Westminster on public engagement, from the innovative petitions committee, to the decision to allow TV interviews in the building, a move which led the House of Commons to open up too.
"Now Westminster has set a lead on Twitter and social media while Holyrood looks stuck in the 20th century."
The MSP said the change could be "self-policing" and he warned "any MSP who tweets about the football while there is an important debate going on will quickly be found out".
He added: "Public confidence in politics is still at a low ebb, and we should not be ruling out any constructive ways to engage people with the process.
"Twitter and Facebook can open up our discussions to the electorate, and we should have nothing to fear from that."
A Scottish Parliament spokeswoman said: "The Scottish Parliament's code of conduct currently states that MSPs must switch off electronic devices in the chamber."