Britishness 'no threat to Scots', SNP members told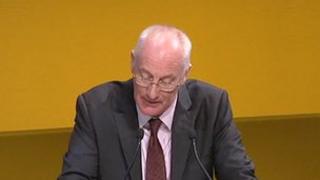 An independent Scotland could lead to the strengthening of Britishness, a leading academic has told SNP members.
Strathclyde University professor James Mitchell said that having a British identity posed no threat to Scots with a strong Scottish identity.
He told the Inverness conference gathering that in an independent Scotland there would remain a collection of continued British links.
Prof Mitchell said the UK had a common past and a social union.
During his Donaldson Lecture address, the academic said: "The sense of threat to Scottish identity has receded. Scots are far more at ease with whom they are."
Prof Mitchell said at the present time there was a crisis of confidence about what Britishness meant.
He said people in Scotland now had an opportunity to help define Britishness by finding "common ground".
He added that an independent Scotland did not mean the break-up of all links with the rest of the UK.