SNP treads 'road to independence'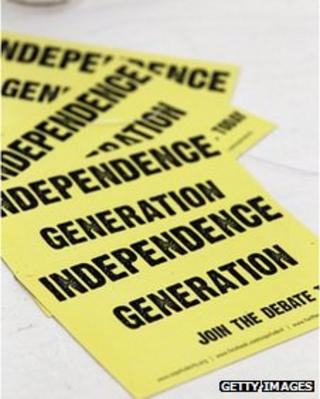 Alex Salmond has committed the SNP to campaign "full square" for independence in the forthcoming referendum.
It's likely to be one of two options on the ballot paper, alongside what's nicknamed "devolution max" - full tax powers for Holyrood, with defence and foreign affairs staying under Westminster control.
The SNP believes it can secure a "yes" vote for "devo max". That's its fall back position.
It hopes to persuade a majority of Scots to go further and say "yes" to independence too.
Work is under way to design an independence blueprint that can command popular support.
Much of this work is being done by a team of officials, who serve the Scottish government as part of the UK civil service.
One senior Nationalist said it was a tribute to the "fair play" for which Britain is renowned that this is possible.
There was public praise for British achievement from Alex Salmond too, when he said the NHS had made Britain "great".
By celebrating and promising to maintain aspects of shared heritage, the first minister hopes ending Scotland's political union with England will be made easier.
That helps explain why the SNP has already promised to keep the Queen as head of state and the pound sterling as Scotland's currency.
It is why, in time, the SNP may also seek to retain some cross border institutions like the BBC.
This approach is sometimes dubbed "independence lite" with its emphasis on what Scotland would continue to share with other nations.
But, in order to deliver "independence lite", the SNP still has to secure full political independence from Westminster.
In other words, a Scottish government cannot share power it does not hold. Nor can it make deals with other administrations unless they are willing to cooperate.
Alex Salmond's two-question referendum is at least three years away - but his independence campaign has already started.
By contrast, the UK government has only recently set up a special committee of ministers to consider how best to respond.
The Chancellor's group on Scotland includes George Osborne and Danny Alexander from the Treasury, Michael Moore and David Mundell from the Scotland office and the Cabinet office minister, Oliver Letwin.
According to one UK government source, they have yet to decide whether or not to force an earlier vote on Scotland's future.
There is still time to insert referendum provisions into the Scotland bill, which will transfer some more powers to Holyrood.
It's unlikely the coalition would do this without Labour support.
A decision will probably be taken in the new year, by which time both Labour and the Conservatives will have new leaders in Scotland.
An intervention of this kind is not without risk for the pro-union parties.
If they are perceived to thwart rather than enable the referendum the SNP promised in the Holyrood election, that could play into Alex Salmond's hands.