Construction workers take protest to MSPs at Holyrood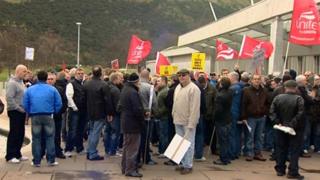 Hundreds of union members have marched on Holyrood to protest about pay and conditions for construction workers.
The demonstration was the latest stage in Unite's campaign to stop an industry-wide deal which it believed would result in de-skilling.
The union has claimed the agreement would allow employers to "dictate" pay, holiday entitlement and overtime.
The deal, which is due to be implemented in March, has been backed by eight large construction firms.
They want to harmonise five different agreements currently covering electricians, plumbers and mechanical workers into a single joint industry deal.
Workers have been given until 7 December to sign up to the change.
The union said: "Wages and terms and conditions across the whole of construction will be squeezed if we don't act now."
However, the contractors have said the agreement had been "misinterpreted".
They have insisted that there would be no job losses and some workers such as plumbers would receive a pay increase "to bring them into line with their colleagues".
Under the new deal, it is claimed there would be no changes to pension, sick pay and insurance, and holiday entitlement would be standardised.