Rural fuel discount due in spring, promises Scots MP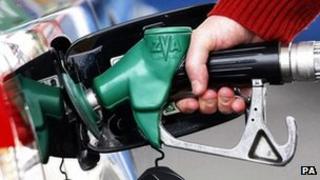 A special discount on the cost of fuel for people who live in remote island communities will be in place by spring next year, a Scottish MP has promised.
Alistair Carmichael said the 5p per litre reduction on petrol and diesel was due to be approved by Europe soon.
It will cover the Inner and Outer Hebridean islands, the Northern Isles, the islands of the Clyde and the Isles of Scilly.
The pledge comes ahead of the Commons debate on the cost of fuel.
Liberal Democrat MP for Orkney & Shetland Mr Carmichael told BBC Radio Scotland's Good Morning Scotland programme: "There will be a process that involves first of all the retailers themselves, who will be the people who will have to deliver this 5p reduction.
"That will ensure that they will have the money upfront so that the scheme, when it's put in place, doesn't trash their business because of cashflow problems.
"I would be fairly confident, in fact I am confident on the basis of discussions I had with Treasury ministers, that it will be available to everyone by the start of the spring."
UK ministers are not allowed to cut fuel duty without getting permission from Brussels first.
In September, plans for the discount for remote island communities were approved by the European Commission (EC).
However, European finance ministers have to agree it before it can finally go ahead.
SNP MP for the Western Isles Angus MacNeil told the same programme he was "impatient" for the scheme to start.
Tory revolt
He said: "It's affecting many people and the price of fuel is very high at the moment.
"It's a gatekeeper thing for the economy at the moment.
"It's affecting many businesses, it's affecting haulage.
"I do know that retailers are very concerned about how this is going to affect them.
"There's a side issue as well. There is a minority of businesses that are buying wholesale who might not be going through the retail process, which the Treasury might have to look into in the island areas, because we want to make sure they too are getting the benefit of this."
He added: "There was a six-month delay at the beginning, and I just wish that it was in place now."
The comments come on the day David Cameron faces a Commons revolt by Tory MPs over rising fuel prices.
MPs will vote on a backbench motion calling on ministers to consider a "price stabilisation mechanism" to operate alongside Chancellor George Osborne's fair fuel stabiliser introduced in the Budget.
More than 100 MPs of all parties - including 83 Conservatives and five Liberal Democrats - have so far signed the motion, which does not represent government policy.