Alex Salmond wins Spectator's Politician of the Year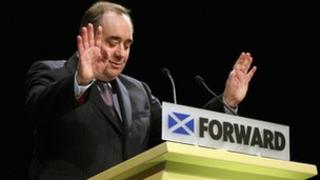 Scotland's First Minister Alex Salmond has been named as Spectator magazine's 2011 politician of the year.
The Spectator said it rewarded him "for his achievement in winning an overall majority in the Scottish Parliament".
It also hailed him for "seeing off the leaders of the other three main political parties in Scotland".
Mr Salmond's Scottish National Party won 69 seats out of 129 in a voting system which was designed to make it impossible to achieve a majority.
The Scottish leaders of Labour, the Conservatives and the Lib Dems resigned in the wake of the SNP victory.
Last week Mr Salmond was named Scottish politician of the year at The Herald's annual awards.
He was also awarded the third South Australia International Climate Change Award.
A spokesman for Mr Salmond said: "This is a hat-trick of awards for the first minister in the last few weeks, and a hat-trick of Spectator awards.
"It is a reflection of the strength and popularity of the first minister and SNP government, and the progress that Scotland is making as we approach the referendum."
The awards were judged by a panel of senior journalists across a range of media organisations.
Mr Salmond was unable to attend the ceremony in London.
The other winners were:
Newcomer of the Year: Dominic Raab MP
Select Committee Chairman of the Year: Andrew Tyrie MP
Campaigner of the Year: Stella Creasy MP
Inquisitor of the Year: John Whittingdale OBE MP on behalf of the Culture, Media and Sport Select Committee
Backbencher of the Year: Adam Holloway MP
Double Act of the Year: The Rt Hon Kenneth Clarke QC MP & The Rt Hon Theresa May MP
Speech of the Year: Charles Walker MP
Survivor of the Year: The Rt Hon Chris Huhne MP
Readers' Representative of the Year: Philip Davies MP
Minister of the Year: The Rt Hon Michael Gove MP
Parliamentarian of the Year: The Rt Hon Baroness Williams of Crosby PC