Problems see Scottish Parliament temporarily suspended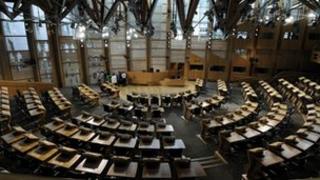 The Scottish Parliament was forced to suspend afternoon debating, following further technical problems with its system in the main chamber.
Proceedings at Holyrood were brought to a brief halt, after issues with the building's £270,000 sound and voting system.
MSPs had to abandon a session last month after the voting consoles failed.
And last week, politicians were given allocated seating because the system was not working properly.
The chamber system is needed to allow MSPs to speak and vote when parliament is sitting, as well as providing audio to broadcasters and helping members and the public hear what is being said.
The hardware was made by Danish Interpretation Systems and is maintained by Fife-based company AV Department.