IFS: Minimum pricing will make 'most drinkers pay more'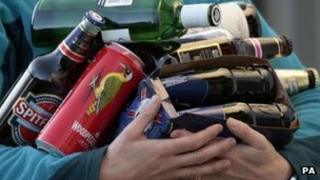 The Scottish government's plans to tackle problem drinkers will mean most people paying more at off-licences, according to a new report.
The Institute of Fiscal Studies said a minimum price per unit of alcohol would make retailers and producers richer at the expense of customers.
It believes increasing prices through taxation would be a fairer option.
Ministers have defended their approach, saying a minimum price was the best way to target problem drinkers.
The IFS, an independent economic research institute, based its calculations on a minimum price of 45p per unit - the Scottish Government's preferred figure when they last considered this issue.
The institute said, at that rate, those with the lowest incomes would be worst affected.
The IFS also said the proposal to set a minimum price would mean the majority of moderate drinkers who bought from off-licences would pay more.
However, the IFS report suggested retailers and producers would be better off.
It said that if the policy was copied across the UK it would see them receive an extra £1.4bn from customers.
The report said: "Advocates of minimum pricing tend to argue that it would more precisely target problem drinkers and would have relatively little affect on moderate consumers.
"Our figures suggest that at 45p, a minimum price would directly affect the vast majority of off-licence alcohol consumers."
It added: "A minimum price is likely to lead to significant revenue transfers from alcohol consumers to producers and retailers."
The IFS suggested that using taxes to raise alcohol prices would be a better option because then the additional cash could be spent on public services.
The report added: "A restructured system of alcohol taxation might well be a preferable way to raise prices."
A Scottish government spokesman said: "In a society where a man's weekly alcohol limit can be bought for about £4, and a teenager can consume enough alcohol to kill themselves for under £5, tackling price is nothing short of essential.
"Evidence shows us that affordability is one of the drivers of increased consumption and minimum pricing will target heavy drinkers as they tend to drink the cheap, high-strength alcohol that will be most affected by the policy.
"Put simply, we believe alcohol duty would not achieve the same public health objectives, as it would not have the same targeted effect as a minimum price per unit."
Genuine consensus
Scottish Labour's public health spokesman, Dr Richard Simpson, welcomed the IFS report, saying it "blows the biggest hole yet in the flawed logic behind the SNP's minimum unit pricing plans".
He added: "Scottish Labour is absolutely determined to tackle Scotland's drink problem, but we do not believe that minimum unit pricing is the answer as it will deliver a multi-million windfall for big supermarkets without providing a single extra penny for our NHS, it will not target problem drinks, could lead to significant cross-border issues and big questions still remain over whether these plans will be struck down in the courts.
"It's not too late for the SNP to drop their dogmatic approach, recognise that the issue and solutions are not as simple as they make out and develop a genuine consensus to tackle Scotland relationship with alcohol."
Researchers at Queen Margaret University in Edinburgh are to carry out a three-year study into the impact of minimum alcohol pricing on Scotland's heaviest drinkers.