Scotland in direct flight talks with China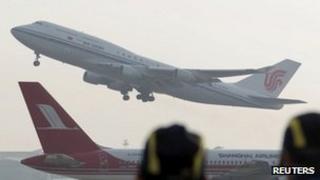 Talks will take place between Edinburgh and Beijing to establish direct flights from Scotland to China.
The announcement was made during First Minister Alex Salmond's week-long visit to China.
The Scottish government said there would be trade and tourist benefits in creating a link between the countries.
Meanwhile, Mr Salmond told BBC Scotland that he was raising the issue of China's human rights record with its political leaders.
Amnesty International has expressed fears that western governments do not pay enough attention to China's record on capital punishment or their treatment of political prisoners.
However, on the third day of his visit, Mr Salmond said there was a way to raise such issues without causing offence.
He said social progress should be encouraged in China through economic co-operation rather than "jump up and down from a distance" about human rights.
Mr Salmond told BBC Radio Scotland's Good Morning Scotland programme: "Adam Smith's work as part of the Enlightenment acknowledges that economic progress and social progress must go hand in hand. It's very important and at every meeting I raise this because it is a fantastic way into an issue and a good way to raise it, which on the one hand helps the dialogue and on the other hand doesn't cause needless offence."
On the issue of direct flights, the first minister said talks would take place in early 2012 when a senior Chinese aviation delegation will travel to Scotland.
Mr Salmond said: "As part of our strategy to support economic growth, the Scottish government is determined to improve our international air connections - to help boost trade and tourism with key global markets such as China.
"We are now working closely with the Chinese government to establish a direct air link between our two nations and I discussed this in my meeting with senior Chinese airline and aviation authority executives.
"A high-level industry team in China has now been established to examine the detailed business case and to work with Scottish government officials and our agencies."
Mr Salmond added: "I am very pleased that they will be coming to Scotland early in 2012 to continue this work, to see our infrastructure and to take forward these plans, which can deliver a great boost to Scottish tourism and to our wider business community."
CBI Scotland said the possibility of flights to and from Scotland and China was "encouraging news".
Its assistant director David Lonsdale said: "If we are to rebalance our economy and achieve our export targets then we need to make it easier for Scottish-based firms to access fast-growing overseas markets and service their foreign-based customers."