Row over £15m Scottish college merger fund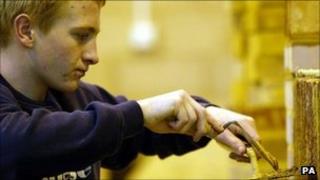 A £15m fund to support and speed up colleges mergers has been announced by the Scottish government.
Education Secretary Mike Russell's plan came amid criticism that further education institutions are being hit too hard by budget cuts.
He said the fund reflected the "pivotal role" played by colleges in helping young people and boosting the economy.
Opposition parties branded the fund a "college closure budget" to force them into "shotgun marriages".
Mr Russell believes the new fund falls in line with thinking in Scotland's college sector, and has insisted the guarantee of a job, education or training place for those aged 16 to 19 will be met.
At the same time, the education secretary has backed college mergers, under a plan to set up regional groupings of institutions to remove "wasteful duplication" during tough financial times.
The issue of college funding has provoked a substantial political row, with funding in the Scottish government budget being cut by £74m, from £545m this year, to £471m in 2014-15.
At the same time, university spending is going up over three years by about £140m.
Colleges said reductions could amount to a 20% cut.
Mr Russell told BBC Radio Scotland's Good Morning Scotland programme he wanted to create a college structure which was "much more focused" on delivering for young people.
Mr Russell said: "We have 41 colleges in Scotland. The college principals have been working closely with me to try to move the agenda on so that we get that transformation.
"I've been persuaded by their argument that whilst the vast majority of them are very committed to the changes, indeed many of them think they are overdue, we need to help them a little bit more.
"Therefore, I have been able in very difficult circumstances to put together this transformation fund to move forward over the next 12 months."
Mr Russell rejected accusations the new money was "a drop in the ocean", adding: "It is a very important contribution.
"The Scottish government is suffering enormous cuts from Westminster at this point in time."
Labour education spokeswoman Claire Baker said: "Today's small college closure fund is not going to help the scores of colleges struggling to cope with such a large cut to their substantive funding.
"Colleges form a backbone of economic growth, but, as long as the SNP government refuses to honour its own manifesto guarantee to maintain student numbers, then colleges are simply being treated with contempt."
Liam McArthur, the Lib Dem education spokesman, added: "This money will go in some way to help this vital sector, badly hit by the SNP's swingeing cuts but it still doesn't go far enough.
"The college sector and young people need a clear sign from this government that it is valued and not expendable."
Scottish Conservative education spokeswoman Liz Smith, said: "This announcement is little more than a sticking plaster over the gaping wound inflicted by the SNP on Scotland's colleges.
"It also confirms their plans to see colleges forced into shotgun marriages."
John Spencer, of the Scotland's Colleges group, welcomed the announcement, saying: "Scotland's Colleges have been making the case to government that there must be additional support to go through what will be an unprecedented and substantial restructuring process."
But he warned: "The cuts will remain a significant challenge for colleges in being able to retain places for learners."
The Scottish government insisted it was "not in the business of closing colleges".
A spokeswoman said: "We are helping and supporting colleges who see the benefits of mergers to do so. We have been equally clear that local access must be maintained across Scotland."