Crown Estate control 'will not be passed to Scotland'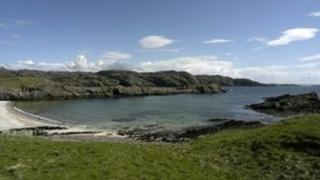 The UK government has ruled out devolving control of the Crown Estate in Scotland to the Holyrood parliament.
Scottish Secretary Michael Moore and Economic Secretary to the Treasury Chloe Smith said it would remain a UK-wide body.
However, in evidence to the Scottish Affairs committee, Mr Moore said he wanted to see it become "more open".
The Crown Estate in Scotland manages a diverse property portfolio, including mineral and salmon fishing rights.
It also controls half of the foreshore and almost all of the seabed.
The Crown Estate stands to gain from the development of renewable energy sources in Scotland.
The SNP government has demanded power over the estate to be transferred to Edinburgh.
SNP MSP Joan McAlpine, a member of the Holyrood Scotland Bill Committee which has discussed the Crown Estate issue, called on Mr Moore to withdraw his comments.
Ms McAlpine added: "Once again Michael Moore is jumping the gun and disrespecting this parliament.
"Devolving the management, administration and revenues of the Crown Estate is one of the Scottish government's proposals for the Scotland Bill and something the Lib Dems are supposed to believe in.
"For Michael Moore to ignore the overwhelming evidence in favour of devolving the Crown Estate is the latest in a long line of Lib Dem betrayals."