Radio special: Blether in Beijing with Glenn Campbell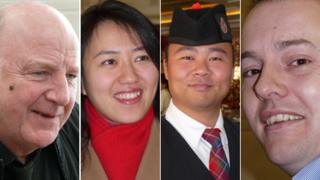 The rise of China is one of the great economic, social and political dramas of our time.
Anyone in any doubt about the potential of this continent-sized country only needs to consider a few numbers.
One in five people on the planet - an estimated 1.35 billion - are Chinese. That makes China the world's biggest market.
Its economy is already the second largest in the world and is widely forecast to grow by about 8% next year, despite a global slowdown.
China is fuelling its rapid expansion by burning three billion tonnes of coal a year.
The scale of these developments is difficult to grasp, but a recent analysis from the Economist intelligence unit helps with the context.
It said that while Rome cannot be built in a day, "China can build a city the size of Rome in just two weeks" based on current rates of house construction.
The intelligence unit's Dr Qian Liu added: "China can build... a country the size of Spain in just one year and it can build Europe in just 12 years".
She told BBC Radio Scotland: "You do the math and you know how big the scale we're talking about."
Dr Liu is one of four guests on a special China edition of Scotland at Ten.
A Blether in Beijing with Glenn Campbell will be broadcast on Monday, 19 December, at 22:00.
The other guests are:
BBC China correspondent, Martin Patience
Beijing-based journalist, Bruce Connolly, who's originally from Glasgow
and George Tian, a Chinese bagpiping enthusiast.
The panel will discuss how fast-changing China is fast changing the world.