Reform due under Scottish Parliament 'MOT'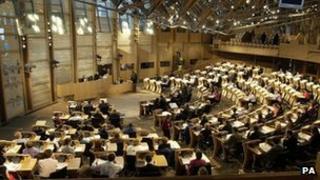 The Scottish Parliament is set to increase the number of days it sits every week, amid concern it has become too rigid and lacking in excitement.
Under a "parliament MOT", Holyrood's standards committee said MSPs should meet in the chamber on Tuesday, Wednesday and Thursday afternoons.
That means first minister's questions could move from its current, 30-minute Thursday midday slot.
The cross-party committees would meet in the mornings, under the plans.
In a report, the standards committee said the changes should take effect after the Easter holidays.
Other recommendations include changes to allow the closer grilling of ministers and more time for backbench MSPs to hold debates on particular issues of concern.
Currently, the Scottish Parliament sits on a Wednesday afternoon and all day on a Thursday, while committees meet all day on a Tuesday and on Wednesday morning.
But, 12 years after its inception, the committee said changes were needed to be more flexible, to respond more quickly to emerging issues and to "enliven" debate, in an effort to increase media coverage of what goes on in parliament.
Under the proposals, MSPs would also be encouraged to back later chamber sittings and let committees meet at the same time as the chamber during busier periods.
Constituency work
Standards committee convener and SNP MSP Dave Thompson, said: "There is a clear need for us to be more responsive to topical issues, and to scrutinise the government more effectively as issues arise.
"At present, if something significant happens in Scotland on a Thursday night, the first chance the whole parliament has to deal with it is on a Wednesday afternoon.
"We believe this needs to change."
The committee also said MSPs should get more time to question ministers and be able to ask them at much shorter notice. It also said the number of backbench debates should go up from two to three per week.
The length of first minister's questions would stay at half an hour, but would become the first item of chamber business on a Thursday.
The changes would mean MSPs could continue to undertake constituency work from Friday to Monday.
Holyrood's presiding officer Tricia Marwick, who has been driving forward a range of parliamentary reforms, said: "I will now discuss with party leaders, business managers and conveners how we can best take the committee's proposals forward."
Scottish Labour's Helen Eadie, who is deputy convenor of committee, said: "As our parliament grows older, it is absolutely right that we look at ways to improve how the work of government is scrutinised.
"At the moment it is too easy for ministers to wriggle out of answering tough questions, particularly when ministers always get the last say.
"I hope this package of reforms will help strengthen the way MSPs can hold ministers to account and end the days whereby ministers simply parrot back pre-scripted answers from civil servants."
She added: "Moves to make our parliament more flexible and responsive, so MSPs can demand answers on issues as they break, are also long overdue."