Scots Tory leader Ruth Davidson makes economy call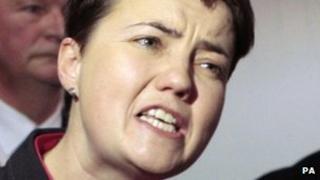 Scottish Conservative leader Ruth Davidson has called for changes to the economy, with a smaller state and bigger private sector.
She said decades of socialism dampened Scotland's natural capacity for enterprise - saying the "something-for-nothing society" was over.
Ms Davidson also promised a wholesale review of her party's policies.
Her comments, during a speech in Glasgow, come as the Scottish Tories face tough electoral times.
The party returned to Holyrood in May with fewer MSPs, and the last general election saw the Tories win just one seat in Scotland, despite them emerging as the largest party across the UK.
Setting out her vision, Ms Davidson, elected as leader two months ago, said: "Our purpose is to decisively shift the balance of power from the hands of politicians into the hands of people and local communities."
She went on: "All over Europe, economic chickens are coming home to roost.
"The dream of permanent growth and ever-increasing prosperity stands exposed as a collective delusion; a fantasy built on debt.
"Countries that have been living beyond their means, with unaffordable expenditure and cosseting of public sector workers, are being forced to relearn the harsh economic facts of life."
'Resourceful people'
Ms Davidson said Scotland had to ask itself whether it wanted to become like Greece, "borrowing and spending vast sums of other people's money in the hope and expectation of never being called to account", or like Germany, where "saving is a virtue and debt is shameful".
She said: "The something-for-nothing society is over. Nobody who is able to work should be allowed by choice to live off the rest of us without contributing.
"My vision for Scotland is a positive one. We are a resourceful people, responsible for many of the world's greatest inventions.
"Our ingenuity and endurance has built business empires and spread commerce across the globe.
"Decades of socialism have dampened our natural capacity for enterprise and hard work but the flame still burns."
The Tory leader said Scotland must embrace a "rebalancing of the economy" between the public and private sectors.
"We must encourage business growth and teach enterprise in our schools," she said.
"We must teach our children to reach for the stars and support them with a rigorous education system.
"We must cut red tape, encourage our entrepreneurs and build a country with the confidence to try and sometimes fail - knowing that the shame is not in falling short, but in not trying at all."
Ms Davidson also announced a wide-ranging review of her party's policy and promised to give more people, including unions, a say.
She added: "Nothing will be off the table for discussion; there will be no 'no go areas'."