SNP wins control of Clackmannanshire Council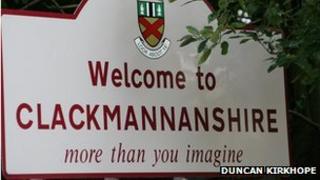 The SNP has taken control of Clackmannanshire Council, after a vote of no confidence in its Labour administration.
The move came at a special meeting of the local authority - one of Scotland's smallest - which heard concerns that its finances had been badly managed.
Labour councillors denied the claims, and accused the SNP of "opportunism".
The council now has a new leader, Gary Womersley, and Tina Murphy was named as the area's first female provost.
There has also been a shake-up of the administration's portfolio holders.
The SNP, which now leads 11 out of the 32 councils, says it is hopeful of further success in the local authority elections, later this year.
Mr Womersley, said: "I have long maintained that this council needs good financial stewardship, robust governance and, above all, a strong sense of ambition and long-term strategy for Clackmannanshire."
Labour responded to the outcome of the meeting by claiming independent councillor Eddie Carrick sided with the SNP after missing out in the selection process to be a candidate in May's local government elections.
Labour Ochil and South Perthshire MP Gordon Banks, added: "This is blatant opportunism by the SNP, which is putting its own electoral interests ahead of the good of Clackmannanshire Council at a time when (Finance Secretary) John Swinney has handed the area deep cuts to the local authority budget."
Mr Carrick told BBC Scotland the Labour selection decision was "water under the bridge", adding: "My decision was a matter of principle and was made for the right reasons, on behalf of the people I represent.
"It had nothing to do with the Labour Party."
The council's new deputy leader, Mark English, also takes on the inclusion portfolio, while Janis Paterson was elected deputy provost.
The special meeting of Clackmannanshire Council was held at the request of SNP councillors.