Scottish independence: Cameron should 'pull out' of independence debate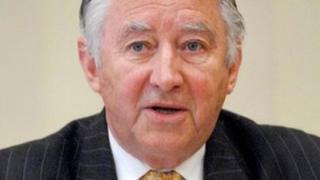 A former Holyrood presiding officer has urged David Cameron to withdraw from the Scottish independence debate.
Liberal Democrat peer Lord Steel said the prime minister and other senior English politicians risked handing victory to the SNP.
He told The House magazine it would be "plain bonkers" for Chancellor George Osborne to lead the "no" campaign.
The SNP said his comments should be a lesson to the Lib Dems and the UK coalition government.
Lord Steel said the case for the Union should be made by Scottish politicians.
The former leader of the Lib Dems said the row over the referendum had been handled "very badly" by the coalition government at Westminster.
"David Cameron has played into Alex Salmond's hands," he told the magazine.
"The problem with the Scottish issue is that most of the politicians here don't understand Alex Salmond.
"I think I have the measure of him and know him only too well. He is extremely sharp, witty," he said, alluding to a joke about there being more pandas in Scotland than Tory MPs.
He went on: "It gets to people. No amount of clever financial argument can overlay that.
"Salmond is inconsistent, but he gets away with it because he is very bullish."
'No' campaign
On the subject of who should lead the campaign for maintaining the Union, he said he believed it would be a mistake to appoint the Chancellor George Osborne, who chairs the cabinet's Scotland committee.
"The idea that George Osborne should take on a 'no' referendum campaign is just plain bonkers. If I were Alex Salmond I would be rubbing my hands in glee at the thought," he said.
He called on David Cameron and his party leader Nick Clegg not to get heavily involved in the debate.
"It's no good having so-called big guns flying in from down south, because Salmond will just dismiss it as London bullying, even though he does the bullying himself. It will just backfire," he warned.
Another senior Liberal Democrat politician, Lord Wallace of Tankerness, is due to repeat his warning that a Scottish Parliament bill to organise an independence referendum without the approval of Westminster would not be legal later.
In a lecture at in Glasgow the UK government's law officer for Scotland will say such a vote could be challenged successfully in the courts.
SNP MSP for Caithness, Sutherland and Ross, Rob Gibson, said: "Lord Steel's comments should serve as a warning to Jim Wallace and his Tory colleagues.
"The more the Lib Dems pursue a Tory agenda toward Scotland the more support for independence grows. Even their own supporters recognise the error of the Lib Dems' ways.
"Lord Steel has offered the Lib Dems some wise words of advice. It is time they listened carefully."