Scottish local election: What could the Labour defection to the SNP mean?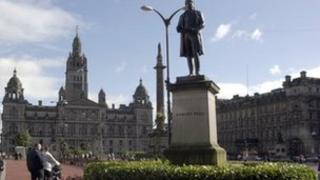 The defection of one Labour councillor to the SNP may hardly be national news by itself, but it is an early skirmish in what is shaping up to be a battle for control of Scotland's largest council.
That may have ramifications well beyond local government.
The SNP has its eyes on a big prize - Glasgow City Council, a seat of Labour power which has so often been a thorn in the side of the Scottish government.
Labour has an outright majority just now. Before the defection, the party had 47 councillors to the SNP's 19.
It will certainly be a challenge for the SNP to become the largest party, although the nationalists concede they made a strategic failure in 2007 by not fielding enough candidates.
Because of the formula used to work out how many councillors are elected in multi-member wards, if the SNP had fielded more candidates they would almost certainly have had more councillors elected.
Both parties will be campaigning passionately ahead of May's election.
Labour is likely to try to focus on what it sees as its achievements for the city - the 2014 Commonwealth Games, the redevelopment of the riverside, a wage higher than the minimum wage for the lowest paid workers engaged in work for the council.
The SNP is expected to concentrate on what the party alleges is a lack of openness and transparency in the city chambers, saying it might shine a light on what it claims are murky council corridors.
This will be the first local election campaign since the 1990s which has not been overshadowed by the Scottish elections.
Traditionally, local elections were often seen almost as opinion polls on the Westminster government's performance.
Inevitably, this year's elections will be seen by many as a verdict on the performance of the SNP at Holyrood or Labour's performance in both parliaments.
Indeed, with Labour now out of power at Holyrood and Westminster, Glasgow City Council's taken on a wider importance for the party.
The council's been a powerful critic of the Scottish government on issues such as the emphasis on cutting class sizes in the first years at school and the terms of the council tax freeze.
The leader of the Scottish Labour Party, Johann Lamont, said local government should be seen and dealt with in its "own right".
At a question-and-answer session in Glasgow, alongside UK Labour leader Ed Miliband, Ms Lamont said: "Local government, at a time where there are cuts at a UK level bearing down on people and cuts from a Scottish level and indeed a squeeze in public finances, local government deserves to have attention paid to it in its own right.
"The people of Glasgow should test the politicians on what they will do for carers, what will they do to create economic opportunity for our young people what they will do for the fabric of the city. I want the debate to be about Glasgow and local government, in its own right."
Ms Lamont was speaking in light of a newspaper interview with Glasgow City Council SNP group leader, Allison Hunter.
She told The Scotsman that in order to get more money for Glasgow, Scotland needed to become independent.
Ms Hunter added: "We are passionate about Glasgow. Because we are SNP does not mean we don't care about Glasgow. We do care about Glasgow very much. All of us. We will fight as hard as we can to get as much money as we can for Glasgow. Being beholden to the SNP does not mean that we can't fight our corner."
However, Ms Hunter admitted that there were no key policies she would push through if her party seized control of the council.
She told The Scotsman: "I haven't thought about that yet. Actually, I'm not an out-there leader. I'm a team leader. So we haven't actually thought about that yet."
War on independence
Inevitably, the independence referendum will not be far from the minds of many in both Labour and the SNP.
A powerful Labour council would also be a very powerful voice against independence and would resist any attempt to use the feelgood factor around the Commonwealth Games as an argument for a yes vote.
Similarly, were the SNP to pull off a coup and actually take control of Glasgow it could bolster the independence campaign.
Indeed, while the battle of George Square 2012 will no doubt be fierce and passionate, like many battles the real significance may not be apparent for some time.
If Glasgow were to fall to the SNP, it could turn into a key date in this war of independence.