Scottish independence: Keeping pound 'has restrictions'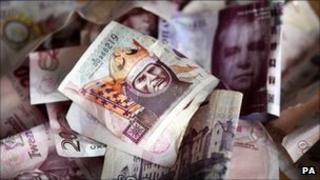 An independent Scotland could be more constrained on economic policy than at present, a study has suggested.
The National Institute of Economic and Social Research said retaining sterling would be "sensible" but a currency union could restrict fiscal policy.
The Scottish government said the report "validates" its aim to retain sterling and insisted Scotland would be in a "healthier" financial position.
Scottish Labour said there was no economic case for independence.
The National Institute of Economic and Social Research, based in London, examined monetary and fiscal policy choices facing Scotland if it leaves the union.
'Volatile' balances
The Scottish government's policy for independence is to maintain a "currency union" with the rest of the UK and to join the euro when conditions were favourable.
Scottish Finance Secretary John Swinney has said he cannot envisage the economic conditions being correct for the euro "for some considerable time".
The institute's report argues that it is "doubtful" whether the Bank of England would extend lender-of-last-resort facilities to Scottish institutions, something First Minister Alex Salmond has argued for.
Report author Dr Angus Armstrong said fiscal balances would be volatile because of heavy reliance on oil, and that Scotland would be open to the threat of default.
The report adds: "With a pro rata transfer of existing UK public debt, Scotland would enter independence heavily indebted with no insurance from fiscal risk sharing or fiscal transfer mechanism with the rest of the UK.
"Even with a favourable settlement on future oil revenues, its fiscal balances are likely to be volatile with large deficits in some years as a result of its dependence on oil revenues."
The report continues: "An independent Scotland is therefore likely to find the implicit constraints on economic policy, especially fiscal policy, are even more restrictive than the explicit ones it faces as part of the UK."
'Share risks'
Mr Swinney said the report "validates" the policy to retain sterling after independence.
He added: "As we have set out, there are strong benefits for the rest of the UK as well as Scotland in being part of a currency union. For example, Oil and Gas UK estimate that this sector alone boosted the UK's balance of trade in goods and services by £32bn in 2010, almost halving the UK's deficit.
"Scotland's international exports are worth £22bn, with whisky exports alone contributing £3.3bn."
He said Scotland would be in a "healthier" position than the UK as a whole, with public sector debt currently lower than the EU and G7 average.
Mr Swinney added: "By keeping sterling after independence, we will have exactly the same relationship with the central bank as the Westminster chancellor does, who has not set interest rates since 1997."
Scottish Labour leader Johann Lamont said: "The report highlights the strength of working in partnership with our neighbours.
"Scotland benefits from being a full part of the UK, where together we can share risks and build stability."
Scottish Conservative leader Ruth Davidson said: "Alex Salmond cannot blithely assume that he can keep the pound and then join the euro at his own choosing."
The National Institute of Economic and Social Research describes itself as Britain's longest established independent economic research institute, with more than 60 years' experience.
The institute said it was independent of all party political interests and receives no core funding from government.