MSPs sent 80,000 emails from students and lecturers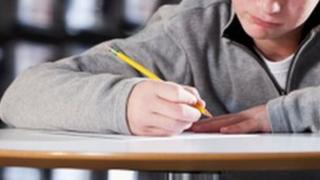 More than 80,000 emails have been sent to Scottish politicians urging them to give more cash to struggling students.
The National Union of Students wants a planned £11m cut to college student support to be reversed in the Scottish budget.
Finance Secretary John Swinney will present his budget to MSPs at the Scottish Parliament on Wednesday.
The SNP government said it was providing the best deal for colleges at a time when other budgets were falling.
The NUS said its Our Future, Our Fight campaign had seen the tens of thousands of emails being sent by students and lecturers to MSPs, who are expected to pass the budget.
The Scottish government has proposed that from August the student bursary fund - which are discretionary funds providing help to the poorest students - would be cut from the current £95.6m to £84.2m.
Robin Parker, president of NUS Scotland, said without additional money for student support, more young people were likely to join the dole queue because they could not afford to stay in education.
He said: "With college bursary budgets already overstretched this year, the Scottish government is planning to spend £11m less on support for the poorest students next year.
"That's money that ensures students can afford to stay in education, rather than add to the already-too-high numbers of youth in the dole queue.
"If we are to avoid increasing the ranks of youth unemployment, the SNP and the whole of parliament must now listen to their voters.
"They must use the budget vote to reverse this £11m cut to financial support for the poorest students and ensure colleges have sufficient funding to protect the number and quality of college places."
The Scottish government said it would "maintain student numbers and college student support".
A Scottish government spokesman added: "The cabinet secretary has made clear that funding for 2012-13 is based on published Scottish Funding Council baselines for this year.
"Delivering on our commitments ensures that colleges will continue to play a full part in supporting economic growth, while providing substantial protection to the living and study costs of students.
"We are providing the best deal we can for colleges at a time when we are having to reduce many other budgets as a result of the swingeing cut the UK government is making to Scotland's block grant."