PIP breast implant numbers 'could be lower'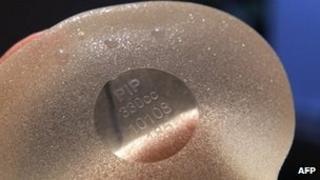 The number of Scots women with PIP breast implants may be lower than first thought, after conflicting figures from the government and parliament.
Heath Secretary Nicola Sturgeon put the number at about 4,000, but Holyrood's health committee now says the figure is much lower, at 1,300.
Ms Sturgeon reiterated the estimated figure in parliament.
The committee published the information from correspondence with the body representing private hospitals.
No women have received the implants in the Scottish NHS.
The Scottish government said its initial estimate of between 2,500-4,000 was based on UK sales of PIP and UK estimates, along with medical watchdog, the MHRA.
Use of PIP implants, made by a French company, has caused an international health scare, after it emerged they were made with non-medical grade silicone.
The latest figure emerged after the cross-party health committee published a letter from the Scottish Independent Hospitals Association, along with other correspondence on the issue.
The information also contained background on which private providers have agreed to remove PIP implants which they put in.
Speaking in Holyrood, Ms Sturgeon said the 4,000 number, "is not an exact figure, but is the best estimate we have".
Health committee convener and Labour MSP Duncan McNeil said a number of private providers had agreed to remove and replace PIP implants free of charge.
'Moral obligation'
But he added: "Unfortunately, this is not a universal commitment - some providers want to charge women for replacement implants while others are no longer in business.
"In these circumstances there needs to be absolute clarity about the support available to women from the NHS in Scotland.
"Recent statements from the Scottish government still leave questions to answer."
According to the hospitals association, private company BMI Healthcare has offered free removal and replacement of PIP implants dating back to 2001, but not where a third party was paid for procedure.
Nuffield Health says it will replace implants in those patients with a "clinical need", including those who are not having problems but still want them taken out.
A third company, Spire Healthcare, is offering the procedure for free "where the surgeon feels it is reasonable and the patient wishes to do so".
Transform, which has about 450 patients in Scotland, is charging a "non-profit fee" of £2,500 for removal and reaugmentation of PIP implants.
Ms Sturgeon, said: "I've made it very clear that private providers who, let's remember, took advantage of the business opportunities and made money from implants now have a moral obligation to do the right thing by these women."
The Scottish government said it would welcome information showing the estimated figures were lower.