Scottish Youth Parliament member calls for mosquito device ban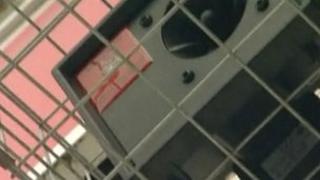 The Scottish Youth Parliament has asked MSPs to outlaw the use of the mosquito crime gadget.
Holyrood heard from youth parliament member Andrew Deans who put forward a petition for the high-pitched noise device to be banned.
Mosquitos are used at various locations, such as around shops, to try to stop groups of teenagers congregating.
They are only audible to those under the age of 25.
Mr Deans is arguing that using them discriminates against young people.
In a letter to the public petitions committee, he said: "Scotland's young people rightly expect that their government should stand up for their rights and protect their status as equal citizens.
"The mosquito debate is hugely symbolic. It is about the Scottish government taking a stand against the outdated belief that young people can be mistreated and discriminated against.
"If it wouldn't be allowed against any other group, it shouldn't be allowed against us."
He added: "I still feel that the Scottish government are reluctant to fully back this petition.
"It is crucial that they recognise the importance of standing by young people and assure us that they will do everything within their power to rid Scotland of the mosquito device."
Mr Deans pressed the issue when he appeared before the committee, together with Howard Stapleton, managing director of Compound Security Systems which makes the devices.
In its submission the company pointed out that a motion to ban the mosquito was taken before the European Commission in 2008 but only attracted support from 8% of MEPs.
It added that the EU had ruled that the device "presented no health concerns" and could not be banned within the EU.
The firm argued that the mosquito "offers a benign solution to people and businesses whose lives and businesses are being adversely affected by teen anti-social behaviour".
It continued: "Used in accordance with our guidelines, the mosquito is a non-confrontational and benign way to gently disperse groups of teens and allow individual members of our society who pay taxes to enjoy the peaceful benefit of their properties and businesses."
A Scottish government spokesman said: "The Scottish government is aware of concerns that have been raised about mosquitoes devices by police and local authorities. We are also aware that the public petitions committee is considering the petition on February 21 and we await the outcome of the committee's deliberations with interest."