Put your questions to Scotland's Labour and Lib Dem leaders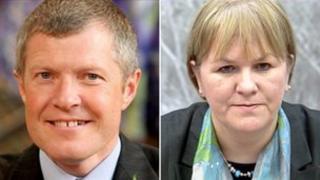 Next month marks the political conference season with Labour and the Lib Dems being the first to hold their spring get-togethers.
The BBC will be holding its webcast chats with the leaders of both Scottish parties and is now appealing for questions from the public.
If you have something to ask Labour's Johann Lamont and the Lib Dems' Willie Rennie then email newsonlinescotland@bbc.co.uk
Both parties will hold their conferences, starting Friday, 2 March.
Ms Lamont and Mr Rennie will take part in separate one-to-one half-hour interviews which will be broadcast on the BBC's website.
Scottish Labour will hold its two-day conference in Dundee on Friday, 2 March and Saturday, 3 March.
The Scottish Liberal Democrats will hold their three-day conference in Inverness between Friday, 2 March and Sunday, 4 March.
If you have a question to submit make it clear which leader you want that question to be put to.
Please put "party leader questions" in the message field of your email.