Scottish independence: Legal trio give evidence to committee of MPs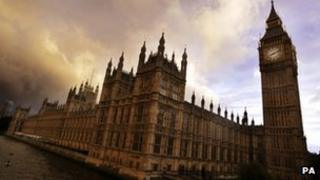 Two professors and a QC have given evidence to Westminster's Scottish Affairs Committee meeting in Edinburgh.
Prof Alan Page, Prof Stephen Tierney and Aidan O'Neill QC offered their views on the legalities of an independence referendum.
The committee has already released a report which it claimed contained the unanswered questions on independence.
The SNP has dismissed the report, saying the Scottish government has already published detailed proposals.
Prof Page and Mr O'Neill both told the committee that any attempt by the SNP government to hold its own referendum could be challenged in the courts.
However, Prof Tierney reiterated his position that it was within the competence of Holyrood to hold a consultative, but not legally binding referendum.
TheUK government reported in a consultationdocument published in January said that the referendum should be "made in Scotland", with a legal, fair and decisive outcome.
But it claimed the Scottish Parliament did not have the legal authority to hold such a vote, because constitutional matters were reserved to Westminster.
It added that the outcome of the referendum must be "beyond challenge or doubt".
In itsconsultation document, the Scottish governmentacknowledged that the poll "must be trusted and clear", meeting "the highest standards of fairness, transparency and propriety and deliver a decisive result".
It added that it was ready to work with UK ministers to "remove their doubts" about the legal competence of the Scottish Parliament holding a "binding referendum".
First Minister Alex Salmond, whose party secured a majority at Holyrood in last year's election, had said the poll would take place in autumn 2014.
Press speculation at the weekend said the referendum datewould be Saturday, 18 October, 2014.
The Scottish Affairs Committee said it wanted to take advantage of what could be called "local expertise" by convening in Edinburgh.
Two weeks ago its members released a report, titled"The Referendum on Separation for Scotland: Unanswered Questions". The committee said more detail was needed from the Scottish government on issues such as bank regulation, pension payments and the national currency.
It also asked about Scotland's share of the national debt and whether Scots would need passports.
The SNP dismissed the report as "shoddy" and as an "embarrassment to the authors".
The only SNP MP on the committee, Eilidh Whiteford, did attend the meeting at the Merchants Hall in Edinburgh.
She has been sitting out of the committee after a row with Labour chairman Ian Davidson last year in which threats of bullying were made.