Ministers to take part in high-speed rail talks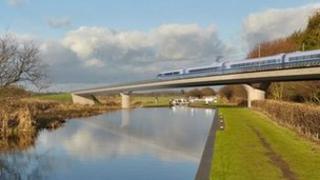 Holyrood's transport minister will tell his Westminster counterpart he wants Scotland to be included from the start in the new high-speed rail line.
Phase one of the line, known as HS2, will be between London and Birmingham and should be running by 2026.
There are no scheduled plans to take the line to Scotland.
The Scottish government's Keith Brown will meet Westminster's Transport Secretary Justine Greening later to discuss the project.
The coalition government gave the go-ahead to the first phase of the network on 10 January.
The second phase aims to take the line north to Leeds and Manchester by 2033.
Ahead of the meeting at the Scottish Parliament, Mr Brown said: "Business, transport and civic leaders have already made clear that the case for high-speed rail is strong, but is stronger when Scotland is involved from the very outset.
"That is why I am arguing that the network must reach further, and be delivered faster, than the current DfT proposals.
"Every city that is included only adds to its business case. Why would you delay development, or insist that new construction must be phased from London?"
He added: "The high-speed rail line will undoubtedly bring benefits to the areas it serves. But if it does not extend beyond the current plans of just a third of the way up the British mainland, those benefits will focus on London.
"If that is the case, it will not realise its full potential. The only way to ensure full value is to include Scotland from the beginning."
Tory minister Ms Greening said that the UK government had been clear "from day one" that the HS2 project would benefit the entire country.
She added: "Even the plans we have already announced will see Scotland enjoying an hour off the current journey time to London.
"When I announced that HS2 would be going ahead, I made a commitment to work with the Scottish government and others on how to build on this and look at further improving connectivity between the north and south.
"I look forward to what I hope will be fruitful and constructive discussions."