Health secretary Sturgeon urges drinks industry not to stop booze law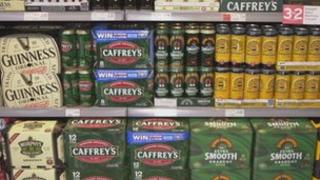 Scotland's health secretary has called on opponents of minimum pricing for a unit of alcohol not to hold up the legislation in the courts.
Nicola Sturgeon used her SNP conference speech to say that a legal challenge to the bill would "delay the benefits it can bring".
The Scottish government hopes to change the law by the summer.
Ms Sturgeon also stated that only independence could fully guarantee Scotland's NHS.
Scottish Labour, which does not support minimum pricing for a unit of alcohol, was accused by the minister of preferring "abject isolation to common sense".
The Scottish government's bill to change the law is now being supported by Lib Dems, the Tories and the Greens.
Ms Sturgeon told the Glasgow conference: "The younger delegates amongst us might struggle to remember this, but there was a day when Labour was a progressive party.
"But not any longer.
"Now, on minimum pricing and on so many issues, Labour is just an obstacle to progress.
"Deaf to the arguments of health professionals, blind to the damage that cheap alcohol is doing to our communities, Labour is still putting petty political posturing ahead of protecting public health.
"They should be completely and utterly ashamed of themselves."
She added that Labour was now a lost cause and therefore she wanted to direct her message to the drinks industry, which she called the "voices in the debate that mattered".
Ms Sturgeon said: "I know there are some, particularly in the alcohol industry, who still have concerns about this policy."
She added: "I am confident that it will prevail against any legal challenge that might come its way. But tying it up the in the courts will delay the benefits it can bring.
"So my message today is this - let us all respect the will of parliament, let us turn this policy into practice and let us get on with the job of sorting out this nation's relationship with alcohol. "
Speaking to fellow party members in Glasgow, the MSP said the Scottish government had shown what could be achieved with the current devolved powers.
She said that devolution allowed Scotland to protect the principles of the NHS, but she believed in order to make sure Tory health policies could not damage the country's health service, independence was needed.
Ms Sturgeon told the conference: "But if we are to use all of the resources, skills and talent we have as a nation to build an even better Scotland, we need independence.
"Only independence can stop Westminster governments squandering energy wealth, while our older folk struggle to pay their heating bills.
"Only independence will put a stop to heartless Tory welfare reforms that punish the vulnerable and the disabled.
"And only independence will give us the powers we need to rid Scotland of the poverty and deprivation that still scars our nation."
Ms Sturgeon also told the party that trials would begin on a new diagnostic test which could detect lung cancer; voluntary sector organisations would be given £9m to provide breaks for carers and over the next three years £3bn would be invested in Glasgow to provide better hospitals, health centres, schools, colleges, public transport and housing.