Champions group to promote Scottish studies in schools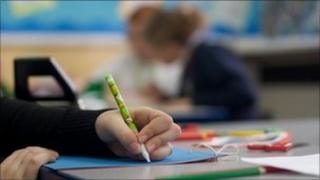 A new group of academics and cultural specialists has been formed to promote Scottish studies in schools and across wider society.
It comes ahead of the launch of the Scottish government's national online resource, Studying Scotland.
Ministers want to integrate Scottish studies into the curriculum but have faced criticism from those who see it as a bid to politicise young people.
The new body says it is non-political and non-partisan.
The Champions group includes academics, novelists and former teachers.
Convener, Prof Murray Pittock, vice-principal and head of the college of arts at the University of Glasgow, said: "The aim of the group is quite simple. We will do all that we can to promote and explain the importance of Scottish Studies particularly, but not exclusively, in schools.
"Bringing together some of the most knowledgeable academic and non-academic enthusiasts from both within Scotland and internationally is hugely significant.
"All of us are very excited at the prospect of supporting projects that we believe will fire the imagination of our young people in the history, art, sculpture, languages, literature, music and cultures of their country, including resources that explain and explore Scottish studies in a more localised context."
Manifesto pledge
The group will work closely with government agency Education Scotland to produce a range of initiatives and materials for pupils.
One example given was online tools allowing children to access medieval charters which explain what was going on in different parts of the country hundreds of years ago.
The group is also backing further steps towards incorporating elements of Gaelic and Scots, such as place names, into early years teaching and will support the work of the Burns Federation in laying emphasis on the works of Robert Burns in schools.
Ministers have been taking views from a range of experts on the introduction of a Scottish studies course, an SNP election manifesto pledge, which would focus on Scotland's historical, literary, linguistic and cultural heritage.
Labour initially expressed strong concern over the move but has given it a cautious welcome.
The Tories have questioned whether such a course is needed.