'Queen of Scots' marks Royal time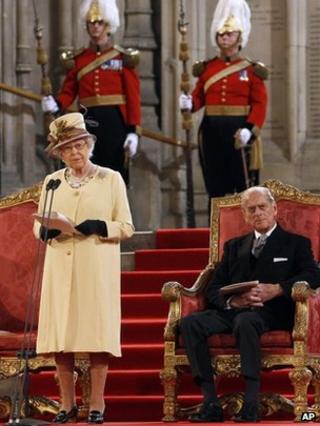 You do not chalk up 60 years on the throne without picking up a thing or two. And so Her Majesty the Queen, no doubt wisely counselled, sounded a series of outreach notes in her address to MPs, peers and distinguished guests in Westminster Hall.
Equally, you do not become First Minister of Scotland, especially from a party which seeks radical constitutional change, without being able to tell the difference between a pitfall and an opportunity.
And so, invited to comment upon Her Majesty's performance, Alex Salmond spread himself enthusiastically in praising a "magnificent monarch" - while stressing again that she would remain "Queen of Scots", post independence.
Reminded that his party's policy had previously been to hold a referendum on the monarchy, Mr Salmond noted sagaciously that Her Majesty's reign had itself typified the concept of change alongside continuity. In the same fashion, tastes - and policies - changed.
Indeed, the Queen's own tone, again as counselled, has shifted. On the comparable occasion of her Silver Jubilee in 1977, it was rightly felt that she delivered a warning from the throne with regard to the then pressure for devolution when she noted that she could not forget that she was "crowned Queen of the United Kingdom of Great Britain and Northern Ireland".
By the time of the Golden Jubilee ten years back, with devolution duly in place, there was no such regal concern - or, at least, no public hints or disclosure.
Ditto this time around. Her emphasis was upon the durability of the relationship between monarch and Parliament - dealing, as she said, with 12 Prime Ministers "at the last count".
The present incumbent and a few predecessors grinned loyally at this drollery despite its implicit reminder of the temporary nature of their power.
Kaleidoscope Queen
She praised the "valour" of the armed forces, the role of the voluntary sector and the opportunity afforded by the jubilee for neighbours to rediscover their common bonds.
Yes, there was a reference to the "continuity of our national story" - but absolutely no more than that.
It was left to Mr Salmond to place his own interpretation upon that concept of continuity - a post independence "social union" between two nations, governed by a common monarch.
Her Majesty had been responding to loyal addresses from the Speakers of both Houses of Parliament.
The Commons incumbent, John Bercow, summed up the change in Britain to a "nation of many races, faiths and customs" when he called the sovereign "a kaleidoscope Queen of a kaleidoscope country in a kaleidoscope Commonwealth".
Not sure that description entirely enthralled the listening monarch - although she smiled supportively in accepting a copy of the text.
More to come, of course. In May, Holyrood will hold a debate on the Jubilee with a presentation to the Queen the following month, during the regular Royal week. Just part of a significant year and a significant period in the history of these islands.