Scottish SPCA criticises sentence for Lanarkshire woman guilty of animal cruelty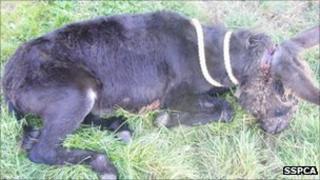 The Scottish SPCA has criticised the three-year equine ban imposed on a Lanarkshire woman who admitted neglecting 19 ponies and donkeys.
Kathryn Brady, 35, from a farm in Lesmahagow, had pled guilty to charges of animal cruelty.
At Hamilton Sheriff Court she was also sentenced to carry out 170 hours of community service.
The Scottish SPCA said a life ban on keeping animals would have been more appropriate.
Brady faced two charges of causing unnecessary suffering by failing to provide veterinary treatment and one charge of abandonment and failing to make adequate provisions for 10 Shetland ponies, two cob-type ponies and seven donkeys.
'Horrendous case'
Scotland's animal welfare charity was alerted to the animals' suffering at fields rented by Brady in Strathaven.
Chief Superintendent Mike Flynn said: "We are extremely disappointed with the sentence imposed as we believe a life ban on keeping animals would have been entirely appropriate for a case as horrendous as this."
He described the state of one animal that had to be put down.
"One young female donkey in particular was collapsed and in an advanced state of suffering," he said.
"Her head collar was so tight that it was growing into her head, cutting into the flesh around her nose and behind her ears and penetrating to the bone in two areas.
"There were also maggots feeding off the dead tissue."
He said it would have taken weeks for the donkey's collar to become so embedded and said there was "no doubt" she suffered a great deal of pain and distress.