Scottish independence: Financial industry in referendum timing call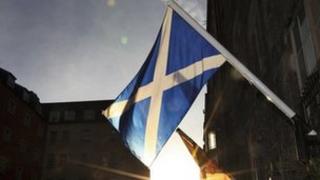 Scottish financial services industry representatives have called for any referendum on independence to be held "as soon as reasonably practicable".
Scottish Financial Enterprise (SFE) said it would help the industry make long-term planning decisions.
It also called for "clear answers" to questions on issues such as currency, EU membership and regulation.
The SFE was responding to public consultations set up by the UK and Scottish governments.
The SNP government plans to hold an independence referendum in autumn 2014, but the UK government has called for the poll to be held "sooner rather than later".
SFE said it recognised many factors needed to be considered in determining the timing of a referendum.
It added: "However, all other things being equal, we can't think of any reasons from our industry's point of view to delay longer than necessary to obtain a conclusive result that can be accepted by all.
"We would therefore urge that any referendum should take place as soon as reasonably practicable, to facilitate the taking of long-term planning decisions on an informed basis."
Referendum question
SFE also raised concerns over the SNP government's proposed wording of the referendum question: "Do you agree that Scotland should be an independent country?"
The body said: "There is one way in which we think the Scottish government's wording is open to misinterpretation, in that it is possible to agree that Scotland should be an independent country (in other words, that such a situation is desirable, all other things being equal) but not to favour the practical steps needed to achieve it.
"We think this ambiguity should be removed. We are not arguing for a specific formulation, only that the question should be free of ambiguity."
Commenting on its response, SFE chief executive Owen Kelly said the issue of whether Scotland should be independent or not was a decision for voters.
He said: "However, we believe it is important, and possible, for some major uncertainties to be removed which will allow for a more informed referendum process."
"Too much of the debate is currently founded on assertion and counter assertion.
"What is needed by our industry are clear answers to questions on currency, EU membership, regulation and the possible impact on the UK as a single market for goods and services.
"This will facilitate planning by businesses and allow informed views to be developed on the foreseeable impacts of independence for the financial services industry."
The Scotland's Office's public consultation into a referendum on independence for Scotland ended earlier this month but will take SFE's late response into account, according to the industry body.
Meanwhile, individuals and organisations can stillsubmit their opinionsto the Scottish government's public consultation, which is due to run until Friday 11 May.