Has Scotland become the policy lab for UK health measures?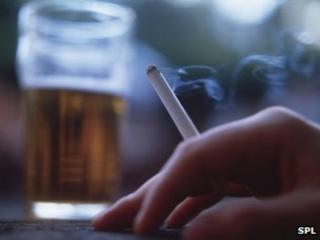 The Scottish government is already a step ahead of the UK coalition's newly announced alcohol strategy, which would see a minimum price of 40p per unit of alcohol in England and Wales.
In just a matter of months, the SNP administration at Holyrood hopes to have its minimum booze price policy up and running.
But it's not the first time the UK government has pinched a policy from the devolved government in Edinburgh.
As the Scottish Parliament moved towards a ban on smoking in enclosed public places in 2006, similar legislation was approved at Westminster.
The then Labour government had promised a partial ban, but some ministers wanted to go further, partly to avoid confusion at the border.
For some, this is how devolution should work - as a sort of policy laboratory for all of the UK.
For others, it may seem that the Holyrood tail is wagging the Westminster dog.
The Scottish government certainly feels vindicated.
It is only 16 months since the Conservatives, Labour and the Liberal Democrats joined forces in the Scottish Parliament to block the SNP's plans for minimum unit pricing.
Scotland's first minister Alex Salmond led a minority government then but he was re-elected in May 2011 with an overall majority and enough clout to make minimum pricing law.
Now, the Conservative/Liberal Democrat coalition at Westminster is adopting similar measures for England and Wales - with Labour support.
North of the border, the Scottish Labour Party did not support the Scottish government'sAlcohol (Minimum Pricing) (Scotland) Bill. In a key Holyrood vote earlier this month, Labour MSPs abstained while the Conservatives and Lib Dems backed the SNP's plan.
The Scottish government said it accepted that minimum pricing was not a "magic bullet" but was an important part of its strategy.
The SNP administration hopes to bring in its alcohol pricing policy by the beginning of this summer - however, there are hurdles ahead.
Minimum pricing is a form of market interference and the Scottish and UK government's plans must be deemed "proportionate" by the European Union if they are not to fall foul of competition law.
The Scottish government has yet to set its preferred price per unit. Previously it suggested 45p. That's a bit more than the 40p proposed by the Home Secretary, Theresa May.
Critics say price differences could prompt a cross border booze trade.
This happens in Canada, where a form of minimum pricing is already in place and varies between provinces.
Beer drinkers from Ottowa, Ontario make savings by bulk buying in neighbouring Quebec where beer is less expensive.
Scotland's Health Secretary Nicola Sturgeon welcomed the UK government's announcement on minimum pricing saying it was good to see the "coalition catching up with the Scottish government and taking bold action on alcohol misuse".
She added: "In Scotland we already have in place our Alcohol Framework for Action which includes a package of over 40 measures to reduce alcohol related harm. We have banned quantity discounts, restricted promotions in off-sales and invested a record £155m tackling the problem of excessive drinking.
"However, as we have been saying since 2007, no strategy is complete without tackling price. We need to act urgently to stem the flow of cheap high-strength drink and minimum pricing is the most effective way to do this."