SNP 'failing' hard-working Scots, says David Mundell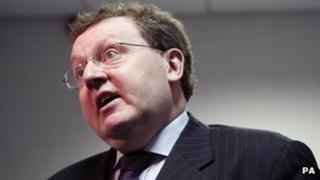 The SNP government has failed to get on the side of hard-working Scots, Scotland Office Minister David Mundell has said.
Mr Mundell said the UK government was taking action to cut "Labour's debt" and reduce tax for millions.
At the same time, he said, the nationalists had come up with no credible measures to cut the public spending deficit.
Mr Mundell's remarks came at the Scottish Tory conference, in Troon.
Scotland's sole Tory MP said the coalition's approach to government was in stark contrast to "13 years of Labour misrule".
Mr Mundell also sought to contrast "Scotland's two governments".
He said: "One of Scotland's governments is implementing the biggest welfare revolution in over 60 years.
"Making work pay, while making sure the vulnerable are protected - reforms to change lives for the better."
Mr Mundell said Scots backed a cap on benefits, adding: "What does Scotland's other Government think?
"They oppose it."
'Toxic legacy'
He went on: "The SNP think the equivalent of a £35,000 salary isn't enough.
"They think a person working hard and living on a salary of £20,000 should pay taxes for a household not in work to receive double that salary in benefits.
"The SNP just aren't on the side of hard working Scots.
"And we should take every chance we get to remind the people of Scotland of that."
Mr Mundell also said people should remember Labour's "toxic legacy", branding it a "something-for-nothing culture" which had brought the country to the brink of bankruptcy.