Scottish council election: Perth residents' future hopes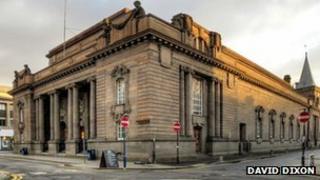 Earlier this year, it was announced the ancient town of Perth would be reinstated as a city.
Seen as the "righting of a wrong", after being stripped of its status in 1975, the residents of Perth steadfastly refused to drop its famous title of "the Fair City".
But with May's council elections approaching, will it take more than a change in status to boost its fortunes?
Nestled below the spires of Perth's St John's Kirk lies a recent source of controversy - the city hall.
The council wants to pull the Edwardian building down to create an open plaza, although a poll for the local newspaper indicated Perth folk wanted it to stay.
"I wouldn't say there is anything I particularly like about it, but it's part of our history and that is the most important thing," said campaigner James Provan.
"We have come up with a compromise to retain part of the building - just part of it could be demolished to make the civic square and to give the grand setting for St John's Kirk."
Mr Provan warned: "If the council was to renege on its duty of looking after local historic buildings, all hell could be let loose in the future."
But the council said the creation of a civic square had been supported by a "significant proportion of the public and local businesses", adding that it would help attract more visitors and shoppers to Perth and boost the local economy.
On the other side of the kirk lies one of Perth's shopping institutions - McEwens - which has been selling everything from trinkets to twinsets since 1868.
Owner John Bullough said he wanted Perth to be more like nearby Dundee, and pointed to the Tayside city's waterfront re-development as the kind of example to follow.
"Dundee City Council has made some very clear decisions that the vibrancy of their city centre is paramount, said Mr Bullough, adding: "They're not going to allow nostalgia to hold them back in the development of their city."
As the owner of a town-centre department store, he expressed concern over the trend of large, out-of-town shopping parks.
Mr Bullough said: "The most important thing is protecting our centre and making it a vibrant and interesting place for families to come.
"The way the council need to react on that is by preventing out-of-town retailing whenever they can."
This is the very issue, argued local journalist Gordon Bannerman, which the folk of the fair city find most troubling.
"Locally, people are concerned the high street has had a very nice makeover but there are too many vacant units," said the Perthshire Advertiser reporter.
"This is in common with many cities and we are now officially a city, it really is a pressing concern with voters here."
Under the watchful eye of stone cherubs atop Perth City Hall, the farmers market meets every month.
Patron Mark Milligan, who owns Ballathie Good Food Company, said he was worried for the future of the city centre.
"You walk about the place and it's a ghost town almost, it's a real shame," he said.
Despite Perth's city status, the surrounding area of Perth and Kinross is largely rural.
Dunkeld is only 13 miles away, but local businesswoman Nan Johnson said some in outlying communities felt decisions were too centralised.
"I think what the local council needs to look at, whoever gets in next, is democracy and listening to what local people have to say," she said.
"We're not often wrong."