Expelled SNP MSP Bill Walker to stay at Holyrood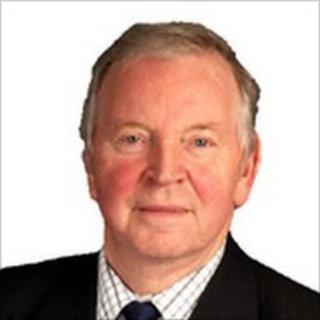 An SNP MSP expelled from the party amid domestic abuse allegations has decided to stay on in parliament as an "independent nationalist".
Bill Walker said he would remain as the MSP for Dunfermline, the seat he won at the last election, saying there was "much to do" in the coming years.
The SNP threw him out of the party after allegations in the Sunday Herald concerning his three former wives.
Mr Walker, 71, said the claims against him were "unproven".
He also denied he had breached SNP rules by failing to declare the allegations while filling out his candidate application form, which he said was completed in a "full and proper manner".
Mr Walker, who had been suspended from the party while an investigation was carried out, was expelled at the weekend.
In a statement, the MSP, who has the right to appeal the decision, said: "At no time during the vetting, selection and confirmation processes was I ever asked about my declared previous divorce proceedings and related matters.
"Nevertheless, the disciplinary committee decided that I had breached the party's code of conduct in not fully detailing all the unproven allegations against me from decades ago, and so expelled me in accordance with the rules which it is entitled to do.
"I fully understand the need for the SNP to uphold its high expectations of its elected representatives, but regret that it believes I should have highlighted allegations from many years ago."
Mr Walker added: "I can assure all my constituents that I shall be continuing as the elected MSP for Dunfermline, sitting in the Scottish Parliament as an independent nationalist.
"There is much to do, work I look forward to pursuing over the next four years."
Mr Walker's suspension and expulsion from the SNP had given rise to speculation over whether he might have stood down as an MSP, triggering a by-election.