Carnegie philanthropy awards coming to Scotland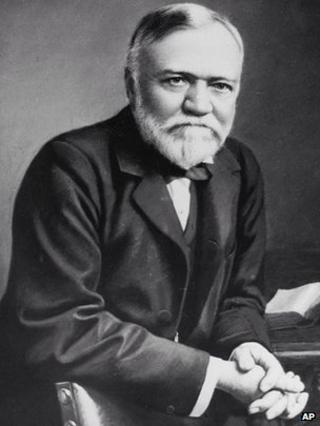 An international awards ceremony honouring people who give their wealth to good causes is to be staged at the Scottish Parliament.
Holyrood will host the philanthropy awards in October 2013, as the Carnegie UK Trust marks its 100th anniversary.
The trust is named after Scots-American industrialist Andrew Carnegie, who gave away billions of pounds to fund a network of global foundations.
Scots businessman Sir Tom Farmer is a previous winner of the award.
The ceremony to award the Andrew Carnegie Medal of Philanthropy, usually held in the US, was staged at the Scottish Parliament in Edinburgh in 2005, when the recipients included the Aga Khan - one of the world's wealthiest men - as well as Kwik-Fit founder Sir Tom.
Vartan Gregorian, president of the Carnegie Corporation of New York, said: "Carnegie Corporation of New York is honoured, as always, to work with its sister organizations, as well as the Scottish Parliament, to recognize the extraordinary philanthropy of Andrew Carnegie, whose generosity has enriched the lives of so many in the United States, in Scotland, and around the world."
Scottish Parliament Presiding Officer Tricia Marwick, said: "Andrew Carnegie's philanthropic efforts have motivated generations over the years.
"Working with the Carnegie UK Trust, we aim to capture and celebrate the spirit of these endeavours in the public programme of debates and discussions to run alongside the ceremony."
Recipients of the Carnegie Medal of Philanthropy, first awarded in 2001, are nominated by all US and European Carnegie organisations and selected by a special committee.
It is given out every two years to recognise people and families with exceptional records of philanthropic giving to serve the public good, with recipients receiving a bronze bust of Andrew Carnegie and a medal.
The accolade, seen as similar to the Nobel prize, was named after Dunfermline-born philanthropist Carnegie, whose family emigrated to the US from a life of poverty in Scotland in 1848.
He made his fortune in steel, becoming the world's richest man, and eventually gave away the equivalent of almost $15bn, establishing a family of worldwide foundations to help ordinary people and communities.