Cigarette packaging consultation begins in Scotland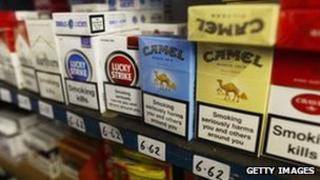 A consultation on whether tobacco should be sold in plain packaging has been launched in Scotland
The Scottish government is working with its counterparts in the rest of the UK.
The public will be asked whether changes would have an impact on people's health and reduce the uptake of smoking.
Plain packaging would consist of no branding, a uniform colour and a standard font and text for any writing on the pack.
Smoking accounts for more than 13,000 deaths in Scotland each year and is the main cause of early death.
Treating people with smoking-related conditions costs NHS Scotland about £271m each year.
Minister for Public Health Michael Matheson said: "Tobacco use remains one of Scotland's most significant public health challenges and is the biggest preventable cause of ill-health and premature death in Scotland.
"We want to hear as many views as possible about whether tobacco packing should remain unchanged, plain packaging should be adopted or a different option should be considered."
The consultation will be open for responses from 16 April to 10 July.
The government would like any person, business or organisation with an interest to respond.