Lord McConnell to take phone hacking legal action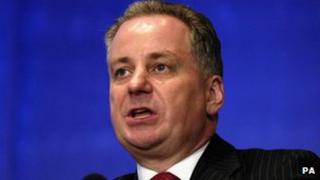 A former Scottish first minister has said he is taking legal action over allegations of phone hacking by the News of the World.
Lord McConnell said police had told him he was among the potential victims of the scandal.
The telephone numbers of his two children were also found in the notes of private detective Glenn Mulcaire, who worked for News International.
Lord McConnell served as Scotland's first minister between 2001 and 2007.
The former Scottish Labour leader confirmed he was "speaking to solicitors" after being contacted by Strathclyde Police officers on behalf of the Metropolitan Police.
He said: "I would prefer not to comment on details, but I can confirm that we are speaking to solicitors."
A police spokesman said: "Strathclyde Police can confirm that officers from Operation Rubicon have visited a number of people on behalf of Metropolitan Police, to inform them that they may have been the victim of phone hacking.
"We won't identify the people we have approached and have no more detail to release at this time."
Labour MP Cathy Jamieson, who served under Lord McConnell in the Scottish Parliament, told the BBC's Sunday Politics Scotland programme: "It's absolutely shocking that someone who was the first minister of Scotland had their phone hacked.
"I feel for Jack and his family now having to go through this process, it must be very distressing for them."
A spokesman for First Minister Alex Salmond called the revelations "disgraceful".