Parliaments on parade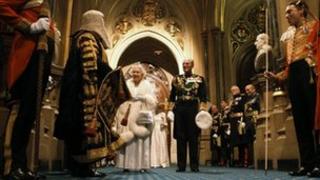 Varying degrees of flummery on display in and around parliaments (plural) today. I observed one in person and one on the telly.
The personal experience was the military march past outside Holyrood (Parliament) - and into Holyrood (Palace) - with the Duke of Rothesay taking the salute and the First Minister observing.
On telly, one could witness the State Opening of Parliament at Westminster with the Queen's Speech setting out 15 bills (plus four in draft form) for the coming session.
Modesty was the common theme - although in rather different ways. The Holyrood gig was charmingly understated. A middling crowd, temperate weather, short in duration.
All part of Diamond Jubilee celebrations in Scotland which Alex Salmond stressed will be "low cost". This was, he added, "in line with the Queen's wishes."
At Westminster, the ceremony was as grand as ever - splendid or awkward, according to taste. It fell to Dennis Skinner to refer in his traditional heckle to the current double dip recession.
In more formal fashion, ministers stressed that the economy was indeed their top priority.
The modesty came in the scope of the Gracious Speech. Relatively few bills - fewer than last time, far fewer than under previous governments.
Of the 15 Bills, 14 will apply to Scotland in whole or in part. (Not a source of excitement to Scottish ministers or the SNP who condemned the Speech as a "missed opportunity".)
Peers listened quizzically as Her Majesty confirmed that reform of the Upper House will feature in the legislative programme.
No mention, though, of a Gay Marriage Bill. There is only so much the Tory back benches will stand at any one time.