MSPs support Scottish welfare changes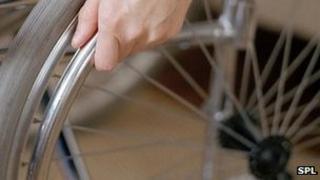 Proposed new laws to "limit the impact" of UK-wide welfare reforms in Scotland should be passed, MSPs have said.
A special Holyrood committee said there were "grave concerns" over Westminster plans for a new universal credit.
The Scottish Parliament cannot stop Westminster changing the welfare benefits system.
But Holyrood must pass new legislation to ensure people still have access to certain benefits, after MSPs protested against the UK reforms.
In a new report, Holyrood's cross-party welfare reform committee said the Welfare Reform (further provision) (Scotland) Bill should go forward to its first vote in parliament.
The UK government wants to replace child tax credit, working tax credit, housing benefit, income support and others, in favour of a single, universal credit from 2013.
The coalition says the changes would save £7bn in welfare spending and encourage people currently on benefits to go out and find a job.
A Department for Work and Pensions spokesperson said: "Universal Credit will replace the current overly complex benefits system with a single, fairer benefit that will mean for the first time that work will pay.
"Around one in five Scottish households is workless and these reforms will help to lift people out of poverty and an endless cycle of benefits, whilst those people who need our help and support will know they will get it unconditionally."
But Labour MSPs and the Scottish government said many in need of vital support would be worse off.
Last December, the Scottish Parliament took the unprecedented step of voting against a Westminster "consent" motion, under which the UK government wanted Holyrood's permission to change the law so its reforms would fit the Scottish system.
MSPs decided to make the necessary legal changes themselves, and the Scottish government brought forward its own legislation to ensure policies tied to the UK benefits system, like free school meals and disabled parking, continue.
Labour MSP Michael McMahon, convener of the special Holyrood committee, said of its investigation: "We heard from witnesses about the bleak picture for those on welfare and the scale of personal impact that is likely to follow the UK reforms.
"We have grave concerns for the future of Scotland's most vulnerable people."
Tory MSP Alex Johnstone, who sits on the Holyrood welfare committee, dissented from parts of the report.
MSPs support some aspects of the UK Welfare Reform Bill, including changes to data sharing, industrial injuries benefits and a new commission on social mobility and child poverty.