Jim Murphy heads cross-party campaign to protect Scotland's regimental names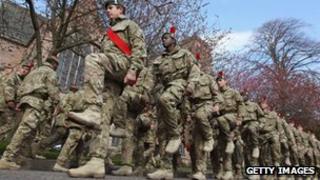 A cross-party campaign has been launched with the aim of protecting the historical names and identity of Scotland's army regiments.
Shadow Defence Secretary Jim Murphy is leading the drive, which has been backed by the SNP and Lib Dems.
Under the slogan "respect our regiments", MPs hope to persuade ministers not to abolish or amalgamate famous names such as the Black Watch.
An announcement on the future make-up of the army is expected soon.
It is understood that Prime Minister David Cameron is sympathetic to maintaining Scotland's historic regimental names.
However, the Ministry of Defence insisted cuts would have to be made.
Plans are in the pipeline to cut the size of the regular army from just over 100,00 to just over 80,000 within the next decade.
Because Scotland's regiments are under strength, they are seen as vulnerable to merger or amalgamation.
Following the campaign launch, Mr Murphy said: "We need respect and compassion for Scottish military history, not disregard and uncertainty.
"The defence community will have been dismayed by the insensitivity shown by the Tories about the potential loss of traditional cap badges and regimental names.
"I am launching this cross-party campaign because all those in Scotland passionate about our military tradition and communities will want the government to show more respect to our regiments.
"This not just about Scotland's pride but protecting the long and enduring relationship within the British Armed Forces."
'Enough is enough'
The SNP, which has secured a Westminster debate on the future of Scottish recruited units, believes scrapping of the regimental names would be a "disgraceful betrayal"
SNP MP Angus Robertson said: "The decimation of Scotland's conventional defence capacity under successive Westminster governments cannot go unchallenged - enough is enough.
"This latest threat underlines the disturbing decline of Scottish recruited units and starkly exposes the extent to which the UK government are running down Scotland's defence capabilities."
At the end of last week, First Minister Alex Salmond described any attempt to drop the names of several historic Scots army regiments as "arrogance".
He also accused ministers at Westminster of underestimating the strength of feeling such a move would provoke in Scotland.