Norovirus bug outbreaks 'falling' in Scotland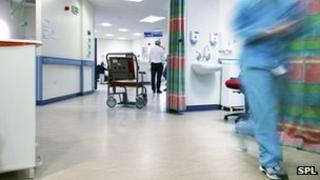 Scotland's top doctor has reassured the public that cases of the potentially fatal norovirus have been falling.
Chief medical officer Sir Harry Burns' comments came after the bug was linked to the deaths of several patients and hospital ward closures.
Sir Harry told the BBC moves to tackle the infection were "probably going in the right direction".
Meanwhile, official figures have shown healthcare related infections fell by a third since 2006.
NHS Greater Glasgow and Clyde said seven wards remained closed at Paisley's Royal Alexandra Hospital, following the deaths of four patients who were being treated for norovirus, a diarrhoea and vomiting bug.
The health authority said two wards were also shut at Glasgow Royal Infirmary and one was closed at the Victoria Infirmary.
NHS Highland reported an increase in the number of cases of diarrhoea and vomiting, with some cases identified as being the norovirus, with Raigmore Hospital, in Inverness, closing two wards to new admissions, while a ward at Caithness General was also shut.
In addition Perth Royal Infirmary confirmed it had to close one ward to new admissions following several cases of vomiting and diarrhoea which was thought to have been caused by Norovirus.
However, Sir Harry told BBC Radio's Good Morning Scotland Programme the "vast majority" of people with the norovirus would recover.
He said: "Where people are ill due to other reasons, then the stress of having this virus can be the final straw and, regrettably, that's what we've seen with one or two cases."
Situation 'stable'
The chief medical officer stressed norovirus cases were decreasing in number, adding: "The number of cases of norovirus, the number of outbreaks, has fallen over the past few years.
"So things are stable and probably going in the right direction. It's something we are seeing less of, a 16% reduction in the figures over the past two or three years."
Prof Hugh Pennington, an expert in bacteriology, told the BBC that norovirus had "an enormously big impact" on the health service, adding: "The only thing you can do to stop it in its track is to close the ward.
"I think there has been a realisation in the last few years that this virus is not just winter vomiting where you are ill for a couple of days and you get better and that's the end of it, even if the illness itself is very unpleasant while you have it."
Meanwhile, the Scottish government said new figures from agency Health Protection Scotland showed MRSA cases fell by almost 40% in 2011, compared with 2010, and cases of c.diff in patients over the age of 65 fell by almost 35% last year.
Ministers have made the fight against healthcare-associated infections a top priority.