Fishing ban at Dalgety Bay to be extended amid radioactive contamination fears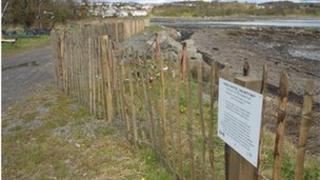 The Scottish government has backed moves to extend emergency restrictions preventing fishing in the Dalgety Bay area.
The legislation, which needs to be approved by MSPs in the Scottish Parliament next week, will ban the gathering of seafood and bait.
There are concerns about radioactive contamination in the area.
Radiation at the Fife site is believed to have originated from radium paint used on wartime aircraft instruments.
The government said the ban would be extended until the area had been given the all clear.
Radiation was discovered at Dalgety Bay by accident 20 years ago.
More than 2,000 radioactive objects and particles have been removed from a section of the beach.
Sepa believes the waste has come from past Ministry of Defence activities because radium luminised dials with numbers on the back can be traced back to MoD aircraft.