Scottish government plan could see offenders pay victims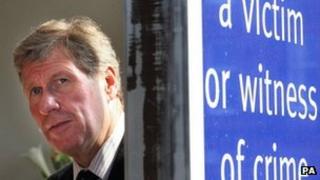 Offenders could be made to pay towards the cost of supporting victims of crime, under Scottish government plans.
Criminals could also be made to pay compensation in every case where someone has suffered injury, loss or distress.
The measures are being considered under new government legislation.
Justice Secretary Kenny MacAskill said crime victims should be at the heart of the justice system and not "passive spectators".
The Scottish government is consulting on the proposals, which could be included in a new Victims and Witnesses Bill .
Other proposals include:
Giving victims of sexual offences and domestic abuse cases an automatic right to special measures allowing them to give their evidence in court by TV link or behind a screen, or have someone with them for support.
Improve management of court cases so victims and witnesses can have greater confidence that, if called to give evidence, the case will go ahead.
A new duty on public agencies have to set clear standards of service for victims and witnesses.
Mr MacAskill said: "I have published this consultation with the intention of placing victims and witnesses right at the very heart of the criminal justice system, not as passive spectators but as informed, supported and valued people whose needs must be served."
Victim Support Scotland welcomed the eight-week consultation.
Labour justice spokesman Lewis Macdonald, added: "After five years in government, it is good to see the SNP at last beginning to put victims' rights further up the political agenda.
"This is where Scottish Labour has argued they should have been all along and we welcome any evidence, however modest, that argument has been taken on board."
The Tories' John Lamont, added: "The SNP may be heralding this as some kind of solution for the victims of crime, but it is the first time they have bothered about them in five years."