Scottish ministers meet Edinburgh council leaders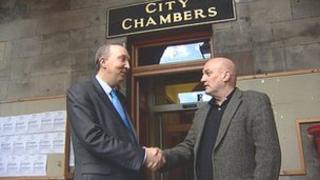 Scottish ministers have met the new Edinburgh Council leaders as part of a series of get-togethers with Scotland's 32 council administrations.
Finance Secretary John Swinney and Local Government Minister Derek Mackay said they wanted to work effectively with local authorities.
Labour and the Scottish National Party have struck a coalition deal to run Edinburgh City Council.
The council had previously been run by the Liberal Democrats and SNP.
However, following the council election at the beginning of May, Labour secured 20 seats and the SNP came out with 18 from a total of 58 seats.
At their meeting, the Scottish ministers discussed a variety of issues with Edinburgh Council leader Andrew Burns; deputy council leader Steve Cardownie and chief executive Sue Bruce.
After the get-together Mr Swinney warned that it was important that "we adjust to substantial reductions in the overall Scottish budget, as pressures on public services increase".
He added: "Today we had a productive meeting with Edinburgh council leaders who share this government's commitment to improve the lives of individuals and families, and to tackle inequality and deprivation.
"Our approach to public service reform is key to achieving this and there already good examples of joined-up action in Edinburgh.
"Building a partnership for progress across the country will be essential as we work together to address challenges of the tight public sector spending climate, which is why I look forward to working with new administrations and new council leaders in the years ahead."
Labour's Councillor Burns said he was pleased to welcome the ministers to the city chambers.
He added: "Our coalition is firmly committed to working in a co-operative way while listening and working with local people and other stakeholders to improve how decisions are made.
"We have over 50 pledges to the people of Edinburgh and we outlined our coherent programme and commitment to delivering those to the ministers."
Mr Swinney and Mr Mackay plan to visit all of Scotland's councils over the coming months.
The majority of local authorities are led by coalitions or in minority control.
Compared with the position before the election, Labour now has a say in the running of 16 administrations; the SNP comes in at 13; the Tories 10; the Lib Dems four and independents nine.